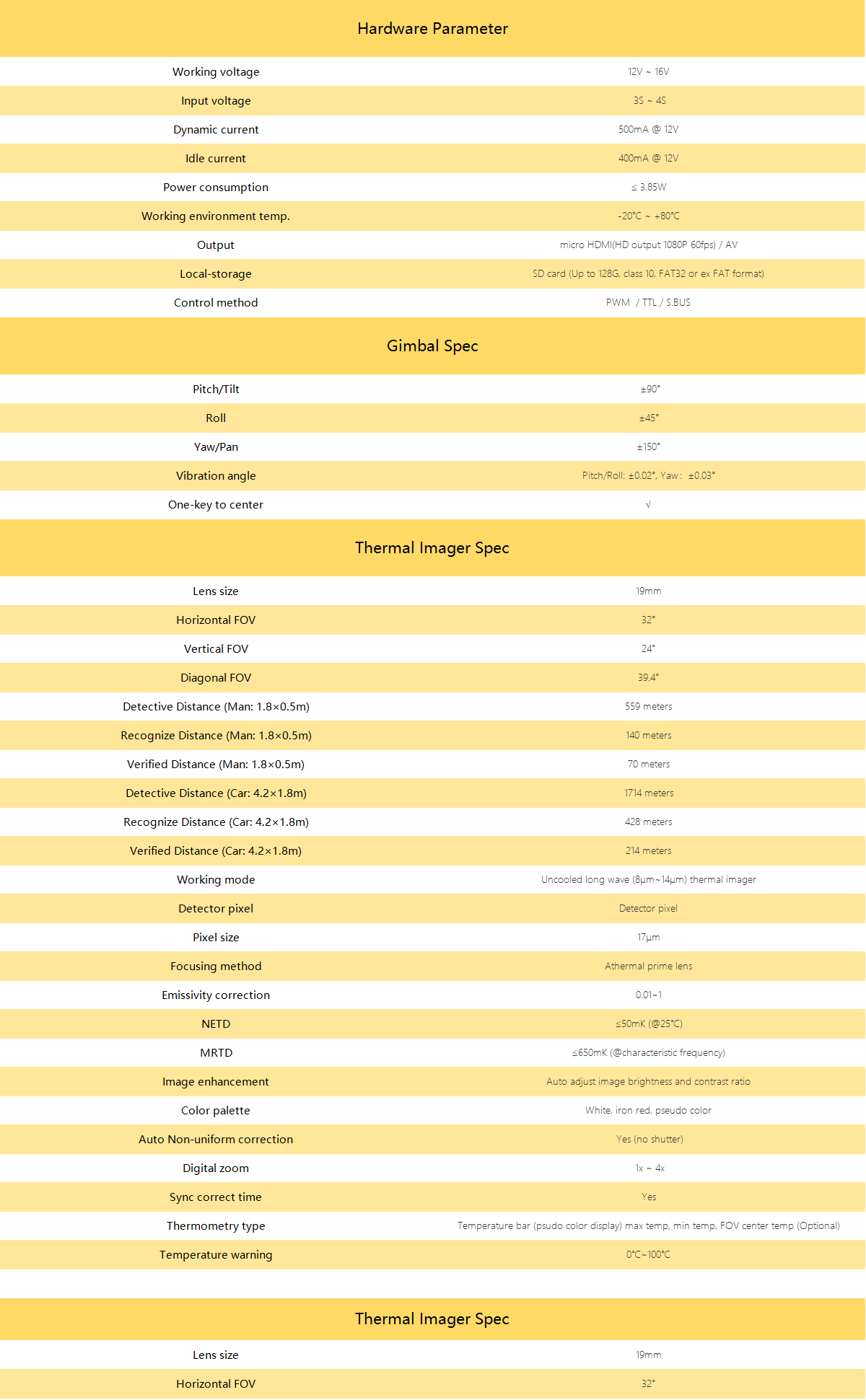 ---
QIR19 Overview
Professional 3-axis High-precise FOC Program
The QIR19 features a thermal imager with a 19mm lens that supports 640*480 detector pixels, and 1x~4x digital zoom. The gimbal can be controlled in three directions: YAWROLL and PITCH, we use an FOC solution that can greatly compensate for the vibration of the UAV. All the parameters have been perfectly set, you need to install the gimbal camera to UAV and then be ready to fly.
Powerful 19mm Thermallmager
Integrated French ULIX high-precision uncooled longwave(8um~14um) with a 19mm lens thermal image sensor, QIR19 can record and transmit thermal images and visible images at the same time. See the unseen.ULIX thermal sensors reveal details invisible to the naked eye by making subtle differences in temperature visible. This new view of the world can reveal when equipment or buildings are damaged the location of lost people and much more.
Benefits and Features
1. Multi-Output Methods Optional
QIR19 supports both HDMI output, Ethernet/IP output, and SDI output. HDMI and output are 1080p, The ethernet output default is 720p and the record is 1080p. IP output and SDI output versions will support 360-degree endless pan.
2. Multi-Control Methods
Default PWM and Serial port TTL controlSBUSis optional IP output version also support TCP control via ethernet cable. With Viewpro software Viewlink, you can fulfill IP output, TTL control, and TCP control.
3. Compatible with Viewport
QIR19 is compatible with Viewpro quick-release connector Viewport. Viewport is an option known as easy assembly, plug and play.