With the wide applications of the UAV in recent years, the knowledge of the popularization of UAV parts is also becoming a hot topic as each part of the drone plays an important role. One of the most important components is the drone battery, which has a great influence on the flight of a drone. In this article, we will learn about drone batteries.
What are drone batteries?
The main role of batteries is to provide power for drones. The batteries used in drones are usually high-rate lithium batteries, which have high energy density, lightweight, and high current resistance. If flight control is the brain of a drone, the battery is more like the heart of a drone. The drone battery system provides the actual power needed by the engines to take off, and its performance will significantly affect the overall flight time, speed and stability of the drone. Therefore, the demand for high-quality drone batteries is also growing.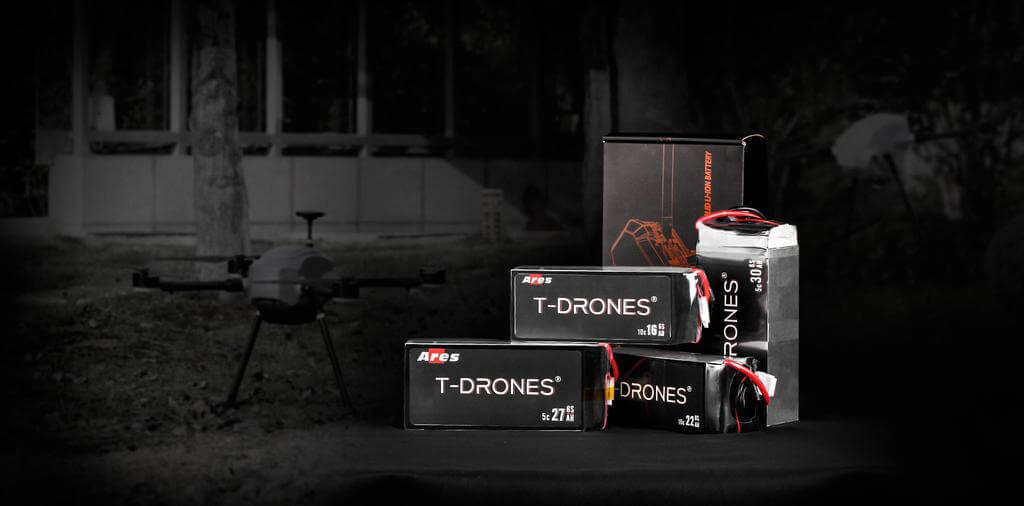 What are the types of drone batteries?
There are hundreds of drone batteries on the market, and it can be difficult to decide which one is right for your build. So, let's learn about the mainstream battery types first.
The battery system of UAV mainly includes lithium polymer batteries, lithium-ion batteries, nickel-cadmium batteries and other types.
Lithium polymer (Lipo) batteries
Lithium polymer batteries is a rechargeable battery adopting lithium-ion technology that uses polymer electrolytes instead of liquid electrolytes. The electrolyte is formed from highly conductive semi-solid (gel) polymers and consists of multiple batteries that incorporate lithium-ion technology, allowing them to store large amounts of energy in a compact and lightweight package.
Lithium-ion (Li-ion) batteries
A lithium-ion battery is a rechargeable battery that uses the reversible conversion of lithium-ions to store energy. The negative electrode of conventional lithium-ion batteries is usually graphite, a form of carbon. Lithium-ion batteries and Lipo batteries have very similar features, but they have different forms.
Nickel-cadmium batteries
A nickel-cadmium battery (Ni-Cd battery or NiCad battery) is a rechargeable battery that uses nickel oxide and cadmium metal as electrodes. Nickel-cadmium battery system is an electrochemical energy storage system. A charge-discharge reaction that occurs between the positive electrode (cathode). And it contains nickel oxide as an active substance and a negative electrode (anode) consists of the metal cadmium.
How to choose a drone battery?
For optimal flight time and performance, it is important to know how to choose the most suitable battery. If you don't know how to choose a drone battery, then it's best to simply take a look at the battery selection guide below. We'll help you learn how to choose the right battery for your drone from different perspectives.
1. Size and weight
The first thing to consider is the physical size of the battery. You need to be able to fit a battery of a certain size depending on the drone you are using. And in order to get the maximum flight time, you would probably use the maximum capacity battery, which you may be able to do that, but it still needs to maintain at the maximum takeoff weight of your drone.
2. Capacity
Generally speaking, the greater the battery capacity, the longer the drone's flight time, and when you have a good battery capacity, you can perform a perfect drone work for a long time. Therefore, it is recommended to choose the battery with the largest capacity when the size and the maximum takeoff weight of the drone are allowed to improve flight efficiency.
3. Voltage
The voltage of the battery is also an important feature that allows your drone motors to give more power while flying. The higher the voltage, the heavier the battery. And you need to check the motor thrust data table first and compare your drone motor efficiency with it. At the same time, you also need to verify that the motor supports a specific battery number and voltage range. It is most appropriate to maximize the selection of high voltages that do not exceed the voltage range required by the motors.
4. Discharge Rate(C Rating)
The discharge rate is also known as the C rating. This rating helps the users understand the maximum current the battery can discharge without damaging itself. These numbers are generally considered a good measure of quality. When it comes to a battery, the one with a higher C rating usually offers you better performance. It allows the motors to produce maximum power for the drone within the reasonable and safe range.
But you need to know one thing. If you install a battery that has a higher discharge rate, then your drone will definitely become heavier because the weight of the battery unit will increase. As a result, your drone's overall flight time will be reduced.
Therefore, before buying the battery you need to look at the specifications of the drone motors first to see whether the battery you would buy will exceed its maximum rated current. The following is a simple formula for the battery:
Maximum Continuous Amp Draw = Battery Capacity X Discharge Rate.
5. Connector
Finding a better, easier to use connector for the battery will save you a lot of trouble with drone batteries in the future. Not only do they give you an easy way to connect or disconnect your devices, but they also help owners create new drones in the future. The easy-to-operate connector allows you to use the same battery on your next drone, so you'd better choose compatible connectors, and EC3 and XT60 are common on the market.
6. Brand
The brand of the battery also plays an important role in the drone industry, and it is better to choose a regular and reliable brand. If you don't know them, consult a professional to give you advice. At present, there are relatively professional and mature UAV battery brands on the market, such as Tattu, Hobbyking, T-DRONES ARES, Infinity and etc. Hope these professional battery brands will be helpful to you.


How long does a drone battery last?
When using electric drones, one of the most concerned issues is about the battery last and the endurance of the drone. How long your drone's battery will last in the air depends on the model. The top-class industrial drones have batteries last for at least 1h-2h, mid-class industrial drones batteries will last 30mins-1h. If your industrial drone is small in size, perhaps its battery will only last 20-30mins or less. And if you are interested in how to calculate flight time, you can first look at the method of calculating flight time.
How to calculate battery flight time for a drone?
Here is a formula below:
Flight time(mins) = Battery Capacity (AH) / ( Motors Number x Motor Current(A) ) x60 x 0.8
Note: The Motor Current needs to refer to the current corresponding to the thrust in the motor data table.
For example:
A quadrotor drone
6S 30ah battery*1 PC
Take-off weight 4.25kg
1. Calculate the thrust of each motor:
4.25/4=1.06 (kg)
2. Find the corresponding current in the motor parameter table according to the calculated thrust and the throttle is best at 50%-60%.

3. The formula is used to calculate the flight time
Flight time = 30 (ah) / ( 4x 7.98 (A) ) x 60 x 0.8
Flight time = 45mins
What drone has the longest battery life?
Drone users have had the same main complaint for a long time: short battery last. The flight time of a drone affects every aspect of the drone's performance, and no one likes their drone to have a short battery last, which is an important factor to consider when buying a new drone and battery. If you'd like to know which drones have the longest flight time, we have listed some of the longest flying drones today for reference.
Model
Flight Time

Size

Weight
T-DRONES VA25
210mins

Length: 1.56m

Wingspan: 2.5m

Takeoff Weight:

13kg

Autel Dragonfish
120mins
1290*2300*460 mm

Max Take-off Weight:

9kg

T-DRONES M1200
70mins

Wheelbase: 1200mm

Max Take-off Weight:

18.5kg

DJI Matrice 300 RTK
55mins
26.4 x 16.9 x 31.9 inch

Max Take-off Weight:

9kg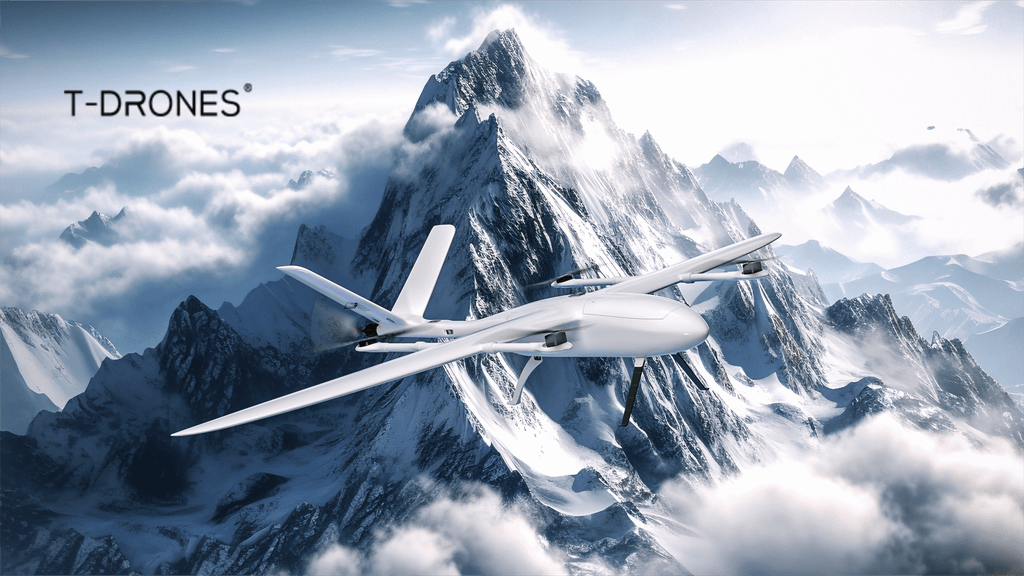 The factors affect a drone battery life
The most important feature of the drone is its flight time, which enables it to fly. The flight time of the drone refers to the time that the drone battery can fly in the air on a single charge. Why can't you fly a drone for a long period of time, even with a proper battery charge. So, what are the factors that affect the flight time?
1. Battery capacity and type
The capacity and type of a drone's battery directly affect its flight time. Larger batteries and higher milliamp ratings will allow drones to fly for longer periods of time as well as drone battery life.
2. Flight time
Flight time is the most important factor in determining battery life. In general, the longer the flight time and the fewer times of recharges, the longer battery life will be.
3. Temperature
Because of the chemical reaction inside the battery, heat will be generated. In a low temperature condition, the heat generated by the battery easily dissipates. Therefore, in cold weather conditions, additional or even external heat would be needed for the battery to maintain the chemical reaction and work. And when you fly your drone in areas of temperatures below 10 degrees Celsius, the battery will drain fast.
4. Drone weight
The heavier the drone, the more energy it consumes, and the battery consumption will increase. Conversely, the lighter the weight of the drone, the better it performs in terms of flight light with the same battery. At the same time, it will reduce consumption and extend flight time.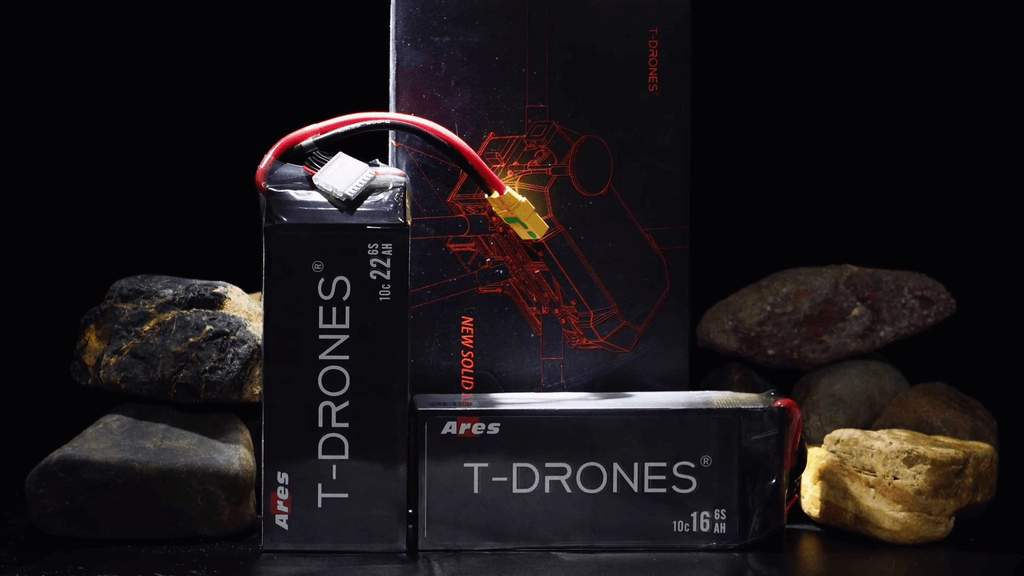 How to increase drone battery life?
Here are some tips to improve a drone's flight time:
1. Reduce unnecessary weight
When you're not using the unnecessary items attached to drones, it's best to remove them while flying. Please pay attention that more weight means more battery power consumption.
2. Have Spare Batteries
Keep spare batteries on hand when you fly, you will get a longer flight time and better battery performance.
3. Use power-saving modes
Some drones have power-saving modes that can help extend flight time. Using a power-saving mode can help extend a drone's flight time by reducing the amount of energy it consumes.
4. Avoid extreme temperatures.
High temperatures will cause the battery to overheat and reduce battery capacity and life, while low temperatures will reduce battery efficiency and reduce battery performance.
5. Avoid overcharging
Some traditional lithium batteries can still be damaged by overcharging, although many batteries now have overcharge protection. Drone batteries are highly volatile and can even cause chemical fires if overcharged.
6. Store batteries properly
Storing the battery in a stable temperature and humidity environment. Excessive humidity or extreme temperatures will damage the battery.
7. Don't fly at high altitude
Avoid flying at high altitudes. The problem at high altitudes is not only about the thin air, but also that the temperature is lower and the battery consumption will be greater.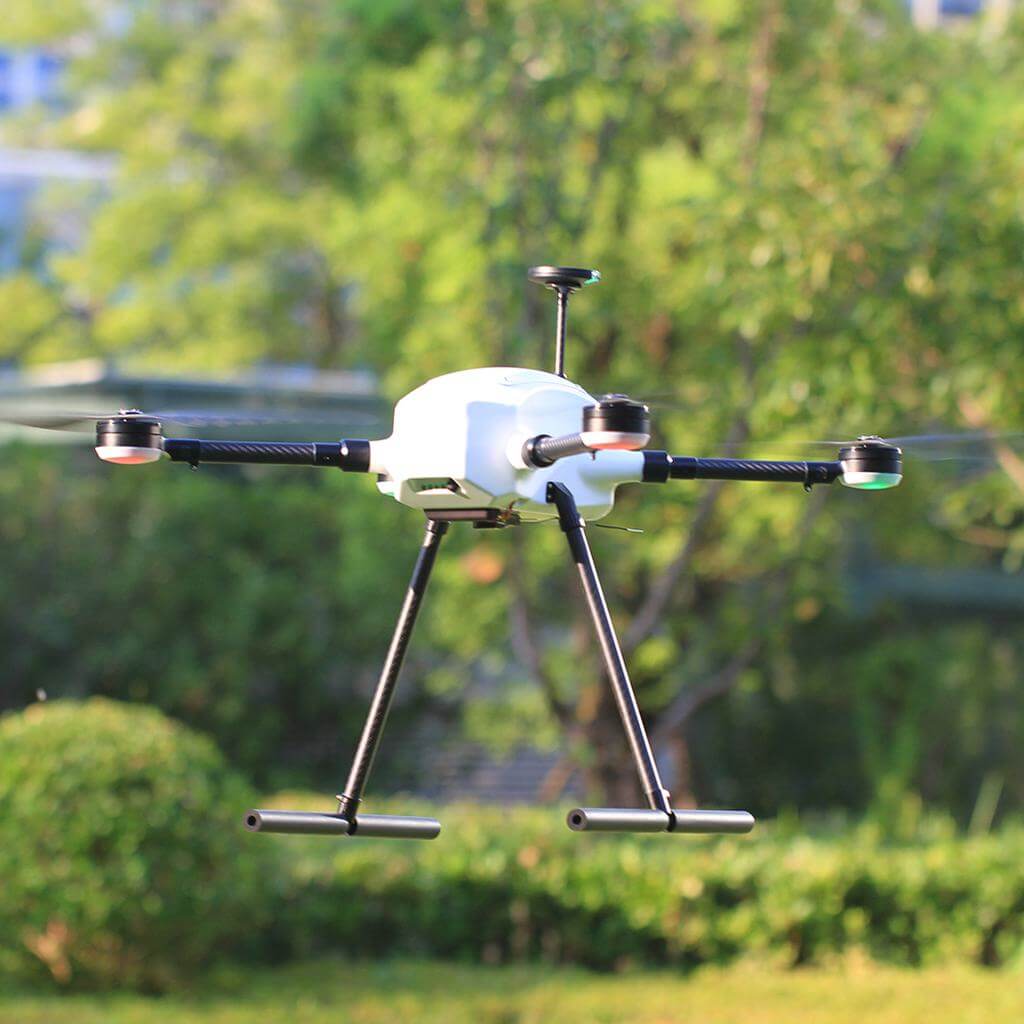 How to maintain drone batteries?

If you want your battery to be in prime working order and ready for every flight, then maintenance is crucial. So, how should we maintain drone batteries? We will briefly analyze the daily maintenance of drone batteries for you from battery storage to battery disposal.
Store a drone battery
●Avoid overcharging and overdischarging.
●Store batteries in a cool and dry place or refer to the instructions on the manual of a battery.
●Clean the battery terminals with a clean dry cloth, ensuring that they are clean before use and before charging.
●Always keep your drone battery in the same firmware version as your drone.
●Fully charge at least every three months to keep the battery healthy.
●If the battery level is already below 40-60%, it should be charged to reach this range for storage.
Dispose a drone battery
Batteries are a kind of hazardous waste. They contain toxic heavy metals and are corrosive making them unsuitable for disposal in municipal waste, as they can contaminate surface and groundwater. Here are a few tips to help you dispose of your battery properly.
1. Don't put them in regular trash cans.
2. To safely dispose of batteries, you need to discharge them completely. It can be done in a salt bath (where the battery is soaked in saltwater for a few days with the required concentration), a light bulb (where the battery is connected to a light bulb and used to drain the charge), or by running them on your drone.
3. Take them to the recycling center or electronic waste station.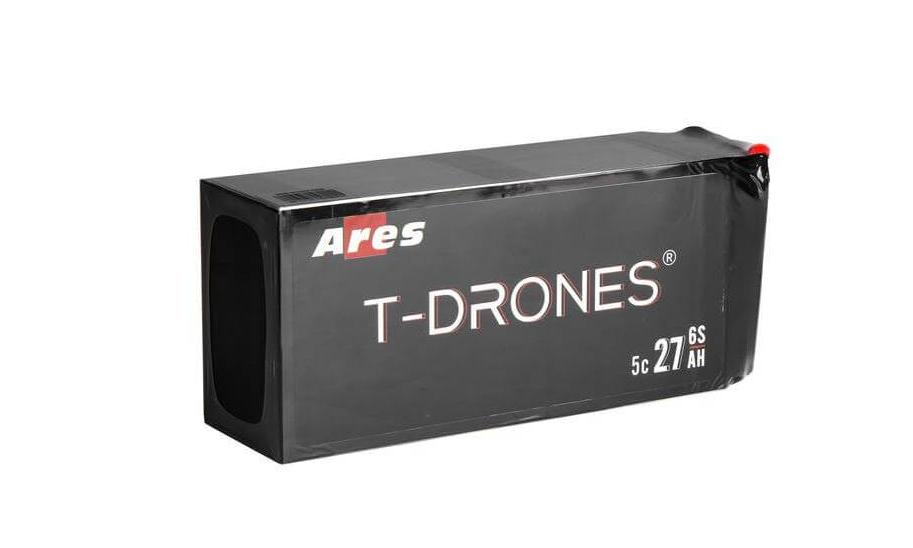 Drone battery safety common sense
Safety is a core principle for drone pilots. This applies not only to flying drones, but also to drones and their components which make the knowledge of drone battery safety also a compulsory subject.
1. Are drone batteries interchangeable?
Sure, drone batteries are interchangeable, but they must meet a number of requirements. First look at the battery parameters. The battery's voltage, capacity and other relevant information should match the galvanic battery. Of course, if you want to use high-capacity batteries, you may need to modify your drone, however, it requires more specialized drone-related skills.
2. Can we bring drone batteries on a plane?
Batteries have been classified as dangerous goods. Incorrect carrying and using of batteries will cause fire. Carrying drone batteries on the plane must use the correct methods, and we mainly need to pay attention to the packaging and rate power of the battery.
●Packaging
It is recommended to uninstall the batteries from your drone when packing and prepare a separated package to put all the drone batteries in. This should be done in case of an accident such as a battery fire or explosion, so that the staff can eliminate the fire or accident. Meanwhile, the packaging of the battery should try not to be too soft. You need to ensure as little pressure as possible is applied to the battery to keep the possibility of mechanical failure as low as possible.
●Battery energy

In general, the energy of the battery is a key point that cannot be ignored. It determines whether or not you can get the batteries on the plane and how many batteries you can take on the plane.
a. Batteries rated for less than 100Wh.
A regular-size lithium battery rated less than 100 Wh can be carried on the plane and there is no limit to the number of batteries. The premise is that the batteries and drones are for personal (including professional) use. Batteries intended for resale or distribution do not meet these restrictions.
b. Batteries rated for 101Wh to 160Wh.
Larger and higher capacity drone batteries have more limitations, and when your batteries are rated at 101wh-160 Wh, you can only take two of them on the plane. And LIPO batteries with more than 100 Wh packed in checked baggage require approval from the airline.
c. Batteries rated for more than 160Wh.
Batteries more than 160Wh are not allowed on the plane.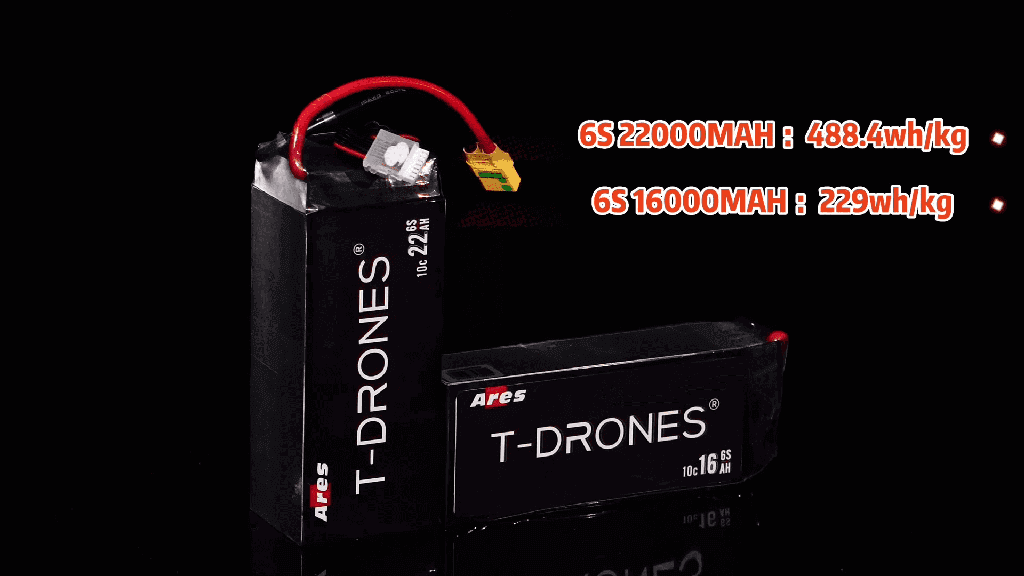 3. What are the safety considerations when using drone batteries?
●Charge and discharge periodically.
●Don't drain the battery to 0%
●Use a proper charger
●Inspect the batteries before each flight
●Proper storage of batteries
FAQ
1. How do we know when my drone battery is charged fully?
Generally speaking, most batteries have LED display lights. While charging, the battery's LED light flashes and shows the amount of power, and when it is fully charged, the LED light automatically goes out.
2. How long does it take to charge a drone battery?
The charging time of the drone battery depends on the capacity and type of the battery. A small size entertainment-grade drone battery only takes about 30-50 minutes to charge. Small and medium-sized industrial drone batteries need to be charged for about 2h. Some large drone batteries would even take up to 12 hours to get fully charged.
3. Where can we buy drone batteries?
You can go to the nearby drone product store offline. And you can inquire the famous battery brands official website online to buy batteries. If do not know any brands, you search on Amazon or Alibaba and other shopping platforms.
4. How much is a drone battery?
Generally speaking, the higher capacity and voltage of the battery, the more expensive. The toy drone batteries are only about a few dollars; FPV drone batteries are about tens of dollars; industrial drones are basically hundreds of dollars, and higher levels of drones such as big size of agricultural drone batteries can even be as high as thousands of dollars.
5. What are the common issues with drone batteries, and how can we fix them?
One of the most common problem is that the battery does not charge, at which time you can check whether the battery charger and the battery itself is faulty, or whether the battery has entered sleep mode. If you are not professional, it is not recommended that you fix them by yourself.